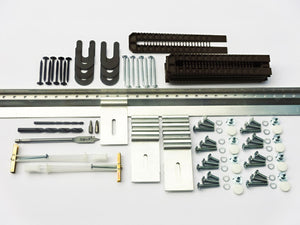 Hang-It-Yourself™
F Cabinet Hanging System - Bundle: 282"
Sale price Price $390.00 Regular price
HIY
How to Buy?
Cabinet layouts are typically dimensioned in inches so you first need to calculate the total length in inches needed for each wall cabinet layout space rail. Then subtract 2 inches from each layout space total length and select the corresponding rail kit that provides this length. If this calculated rail length exceeds a stock kit size by only a few inches, it is not critical to have a rail run the full distance of a cabinet layout space length. Just be sure to note the affected end of run cabinet and adjust the corresponding cabinet bracket inward a sufficient amount to enable the bracket to fully engage the shortened rail. NOTE: The rails are easily trimmed with a hacksaw.
Hang-It-Yourself™ is a patented, universal fit cabinet hanging and alignment system. This product makes kitchen renovation fast and easy—designed to work on any framed, frameless, pre-assembled, or ready-to-assemble wall cabinets. The sturdy aluminum wall rail ensures a straight and level cabinet installation while providing the flexibility of adjustments prior to final attachment.
Includes:
Three 94" Wall Rails
24 Cabinet Brackets (One per foot of wall rail length)
3 different length screws, washers, T-nuts and caps for each bracket
24-1/16" Rail Shims and 24-Tapered, combed Cabinet Bottom Shims
Snap-Toggles
Drill/Driver Pack
Each Hang-It-Yourself kit includes all of the "Rail length-specific" hardware needed to install rails and cabinets on wood frame constructed walls except for the front face attachment screws whose sizes and number vary based on the particular cabinets. See your specific cabinet manufacturer's instructions regarding recommended fastener size and location for attachment of adjacent cabinet faces.
Metal stud construction, brick, block or concrete walls will require special rail and cabinet bottom attachment fasteners not provided in the installation kits. We recommend SnapToggles for metal studs and Tapcon hex head screws for masonry walls.
Customer Reviews
Excellent product
Very easy to use, extremely satisfied. Quick shipping!!